UFO Meme
Okay, took this idea from
Scout
. Here are my current UFOs (Un-Finished Objects):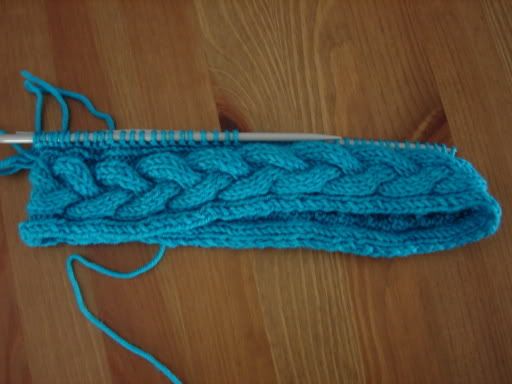 Coronet
, from the Winter '03
Knitty
. This was my first project with cables, and all was well until I did the grafting to make the cabled headband bit. I did that inside out, and for reasons still unknown, made the damn thing worse by weaving in the ends. So I have to undo that and do it right. But it pissed me off enough that I threw it across the room first and haven't touched it since...I think April. Yeah.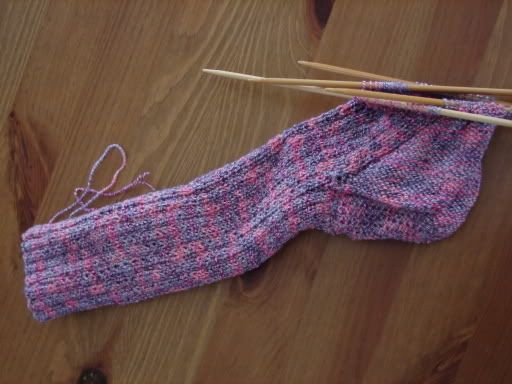 Twisted Cable Socks
pattern from Knitpicks in Dancing - Ballet. I don't know how to count these. I started them in November, I think, and they were meant to be a nice project for me after all the Christmas knitting was done. I got through one of them and then started Regan's Jaywalkers, and these got pushed to the side. This is the second sock, and you can see I'm making progress - generally at Stitch n Bitch, because these are light enough to knit in a dark bar and still see the stitches. However, since I'm currently making Jaywalkers for myself from the "Thanks for the yarn!" yarn that Aimee (and Rick) got me, interest in these has waned. Because how many more damned twisted cables can I do? They're annoying.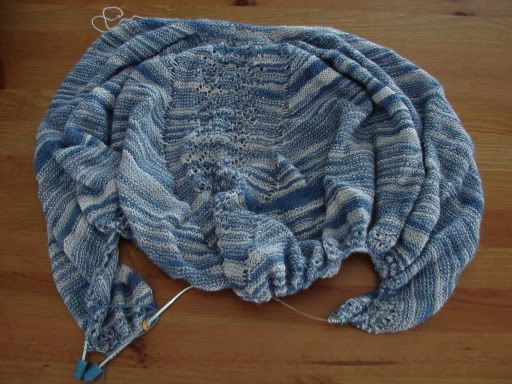 The Queen Mother of all UFOs, my mom's
Faroese Peaks Shawl
. Let's see, I got the yarn last September, told her it would be a Christmas present, but she told me to do everyone else's presents first. So then it was going to be my Knitting Olympics project, but it was so ginormous (increases on every other row) that it just didn't happen. Then it was going to be done for when I saw her in March. And then for Mother's Day. And then for her birthday. Now...maybe in time for my birthday as a thank you gift? I think my main problem with this is that huge, large portions of it are garter. And thus boring, in addition to ever-increasing. And when I finally get to the lace bits, I get all flustered and drop stuff and miss yarn overs, and...end up throwing it across the room. Stoopid shawl.
Okay, Aimee and Regan, it's your turn. Show us your UFOs!